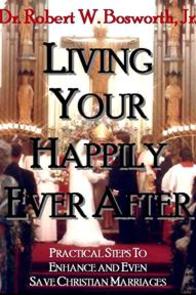 Living Your 'Happily Ever After"
Living Your 'Happily Ever After"

Whether with the direction of clergy or without, many have found this book useful in mending cracks in marital relationships as
well as valuable for preparation for the Sacrament of Holy Matrimony. It is equally valuable for Catholics and Protestants as well as people from ecumenical and other interfaith traditions. Each section of the book was designed to carry words of wisdom to those who live in close communion with each other.
The Rev'd Dr. Robert W. Bosworth, Jr., SSC, is a retired Anglican Priest, but currently is still active as the Canon for Pastoral Ministries in the Diocese of Fort Worth. As a Licensed Clinical Pastoral Counselor, Canon Bosworth has over thirty years of parish, school, and counseling experience. He is a member of the National Christian Counselors' Association and the Catholic Psychotherapist Association.
Check out this informative book to see how it can help you "live happily ever after!"