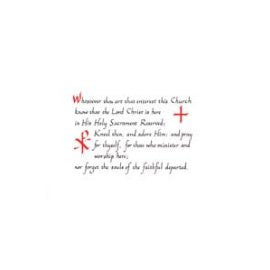 Narthex Sign (Traditional)
[NARTHEX CARDS]
The entry into the church from the busy world is often times a jarring transition. This attractive sign that can be framed, laminated, or simply hung in the Narthex or other entries is an excellent reminder that we are entering a Holy Place, where the Blessed Sacrament is Reserved, and it calls us to remember why we have entered Sacred Space. Elizabethan English ("Rite I")
THE NOISE OF THE CROWD AND THE JOY OF SILENCE
Probably one of the cultural changes, of late, in our churches, is that the noise of the outdoors is now brought into the Nave. Generally speaking, our churches lived with the principle: when we are outdoors we speak to the people and listen to them; when we are in the Nave we speak to God, and listen to Him. Our churches were very quiet. It was not because we are unfriendly, but rather that we respect the fact that:
Jesus is truly present in the Most Holy Sacrament of the Altar, and while we are in the Nave, we behold Him in the Earthly Tabernacle in the Sanctuary.   We acknowledge His Presence by Genuflecting before going into our Pew, and then kneel to pray.   We respect Him.   We respect the fact that others are very distracted when they are talking to Jesus and they hear loud whispering and talking. We respect them.
Our narthex signs have been available at The Parish Press for nearly 100 years, and are used in churches throughout the world.  Everyone needs to spend more time, with our Lord, and these signs remind us of that importance.